Why do you need dental veneers?
Fix chips and cracks
Enhance the shape of short teeth
Fill in the gaps between teeth
Cover up severe discoloration
Treat teeth with damaged enamel
When it comes to instant transformations, you can rely on the experienced cosmetic dentists from our dental clinic in BGC Taguig. After your initial consultation, these highly skilled doctors can help you achieve your most beautiful smile. This is thanks to the popular and effective dental procedure known as veneers. If you're wondering why you need veneers, you can keep reading to learn more!
Fix Chips and Cracks
If you recently got involved in an accident that left some of your front teeth broken, you might have a hard time smiling in front of your peers. Or maybe you enjoy hard-to-chew foods such as candy and ice, leaving both your natural teeth and dental fillings cracked from the pressure. In some cases, you might not even be aware that you have a teeth-grinding habit when you're sleeping at night.
Aside from affecting the aesthetic appeal of your smile, cracked and chipped teeth can also cause pain while chewing. If the damage is severe, it might even make you more sensitive to hot and cold food! Fortunately, a dental veneer can fix your problems instantly. As an added benefit, your natural teeth will become stronger and last for more than a decade if taken care of properly.
Enhancing The Shape of Short Teeth
Aside from chips and cracks that are caused by accidents or poor oral care, veneers are also the recommended treatment for people with shorter-than-average teeth. This condition is also called 'microdontia' and may affect just one or two teeth and create an uneven smile. Because of this, you might be at higher risk of wear and tear for your other normal teeth.
Because of this, your cosmetic dentist might recommend dental veneers as an instant solution. They will choose a similar colored material to give you the most natural smile without traces of treatment. As a bonus, it will make your facial appearance more balanced!
Fill in The Gaps Between Teeth
As a consequence of small teeth, some clients might also have gaps in their smiles. While genetics is a common cause, the bad habit of tongue thrusting can contribute to the formation of these small spaces. If you had the habit of sucking your thumbs when you were little, it can also make this problem worse.
But did you know that gapped teeth are also more prone to tooth decay and gum disease? This is because plaque can form in hard-to-reach places. In some cases, your tooth can also move to the vacant space and alter your bite for the worse. For this reason, dental veneers are more than a cosmetic fix but also a smart move in keeping your oral health in the best condition.
Cover Up Severe Discoloration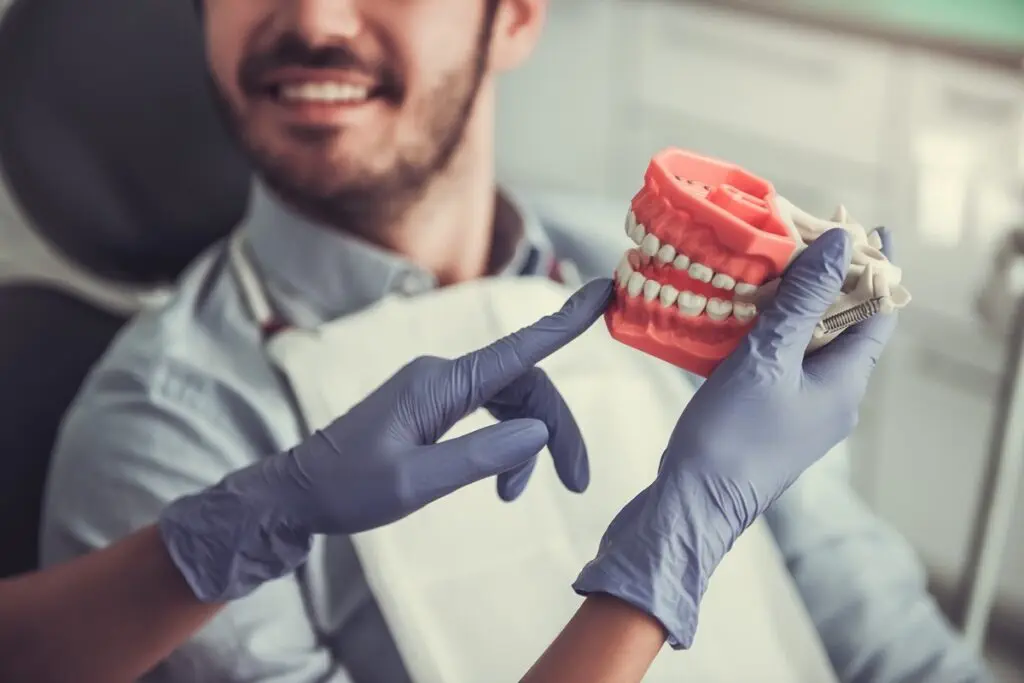 Aside from fixing the previous problems, veneers can also provide you with the pearly whites you're dreaming of! After all, years of drinking coffee and smoking can stain the surface of teeth. In severe cases, even the most expensive whitening toothpaste won't make a difference to the discoloration.
Because your dentist will cover your natural teeth with dental veneers, a lighter color will provide you with an instant transformation. If you're a candidate for porcelain laminate veneers, you won't have to worry about discoloration because the material used is stain-resistant.
Treat Teeth with Damaged Enamel
Speaking of discoloration, you might have yellowing teeth because of damaged enamel. This is the protective layer that coats each of your teeth to shield it from decay and damage. But if you consume high amounts of sweet and acidic food, this coating can wear away and lead to discoloration. If you have an acid reflux disease, the substances can also cause wear and tear to the enamel. As a side effect, you might feel sensitive when eating hot or cold foods.
Because damaged enamel doesn't come back on its own, your cosmetic dentist will recommend veneers as one of the best solutions. Because it acts as an additional layer of protection, you can prevent sensitivity when consuming your favorite foods.
Key Takeaway
Why do you need veneers? The answer is simple! If you want to transform your chipped, cracked, stained, gapped, irregular, or misshapen teeth, this treatment can provide you with immediate results. If done by an experienced dentist, you can expect a natural-looking smile that you would want to show off to everyone you meet.
If you're still hesitant about getting this treatment, you can visit one of Casipit Dental Group's branches to help you decide! During the initial consultation, our kind and knowledgeable dentists can answer your concerns regarding the procedure. Other than that, we can also provide a mock-up smile design so you can see how the treatment can transform your smile.